One of the first mod most enthusiasts do to any vehicle is an exhaust. The Nissan 370Z is a great sports car, but like most cars, the factory exhaust system leaves something to be desired.
Manufacturers tend to want to make their cars a bit tamer to appeal to more people, but enthusiasts who buy them want some more sound. If you're reading this, that probably sounds like you. Not only will an aftermarket exhaust make your car louder, but they tend to give some small performance gains.
With so many different options, it's hard to know what's best, but we've compiled a list of the best 370Z exhausts.
---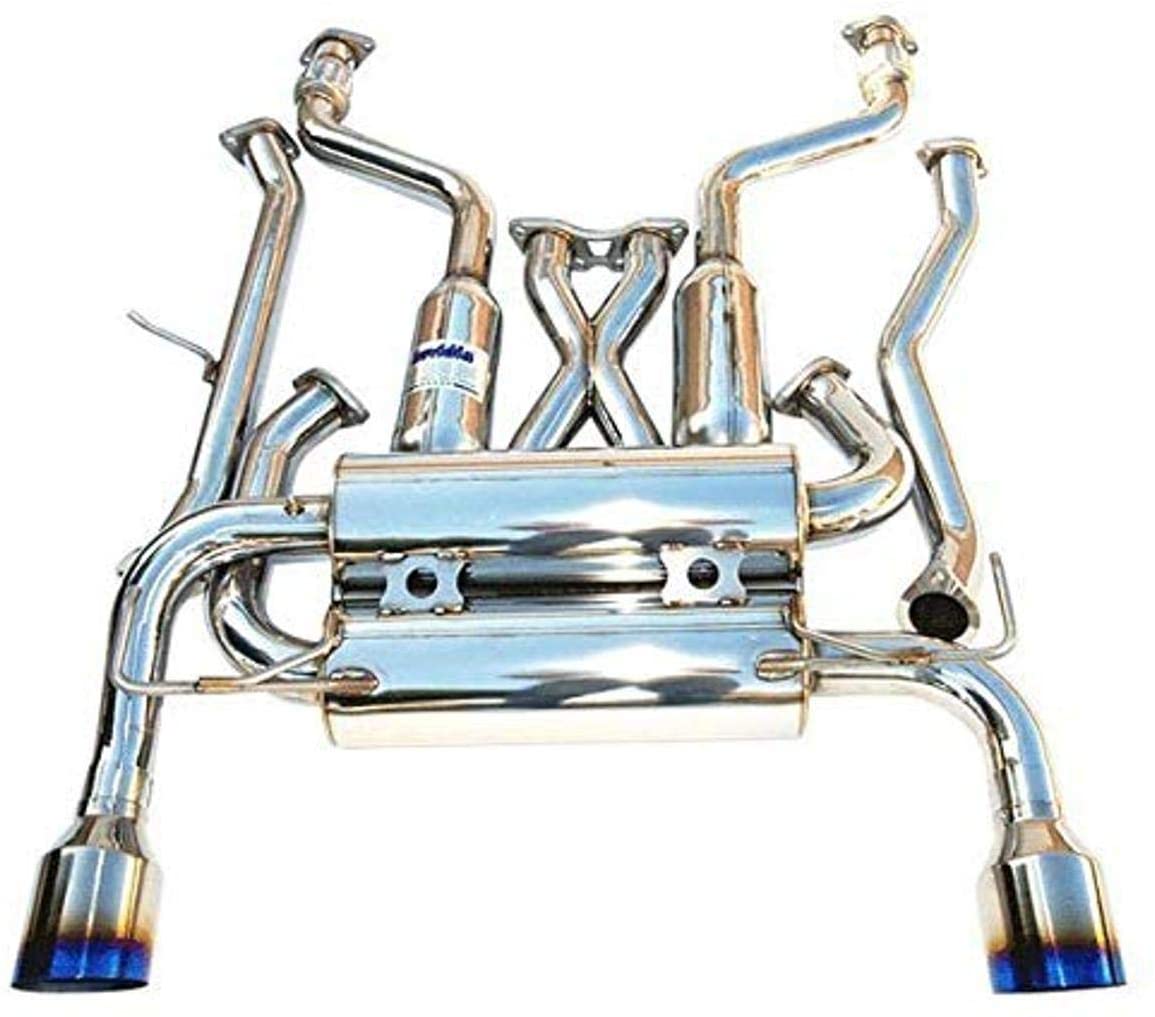 Our Top Choice:

Invidia Gemini Catback
Check Price
This exhaust is made with very fine quality materials and craftsmanship as we'd expect from Invidia. This exhaust lets some deep tones free without being overly loud. It makes the 370Z sound more modified and aggressive with some lower bass tones, but it's not over the top. When you step on the gas, it really opens up for some extra volume. The exhaust piping is 60mm, with 101mm tips.
---
---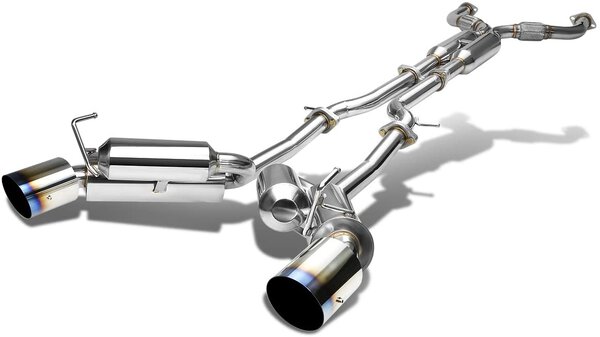 DNA Motoring Catback
Check Price
DNA Motorsports offers a great affordable exhaust for the 370Z. They claim dyno proven gains of 15-25 horsepower and torque. This catback gives the 370Z a deeper tone when compared to the OEM system, and makes it significantly louder. It sounds great, with a throaty tone, at wide-open throttle. The tips have a burnt stainless steel finish, and are 4.5" wide. It has 2.5" piping, allowing for better flow. This is one of the most affordable systems for the 370Z out there, and the quality is decent enough to get our recommendation.
---

Rev9 Single Exit Catback System
Check Price
If you're looking for a single-exit cat back exhaust system, this is a great option. This exhaust for the 370Z from Rev9. This is a very simply designed exhaust system, giving you the most sound, and a bigger reduction in backpressure for more potential power gains. It has 3" piping and a 4.5" exhaust tip. This exhaust system includes a removable silencer, so you have some control over how loud your car is. Overall, this exhaust is a bargain and recommended to anyone looking for a new 370Z exhaust on a budget.
---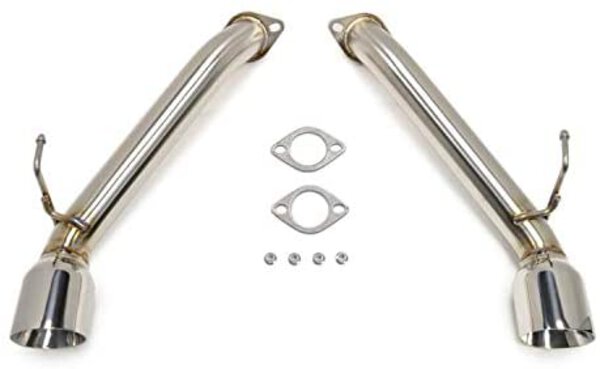 STM Axleback Exhaust
Check Price
This exhaust system from STM is just an axle back muffler delete, rather than a catback like most of the others on our list. It replaces the read section of the 370Z's stock exhaust system with a straight pipe and some nice looking 4" exhaust tips. The 2.5" mandrel-bent tubing allows for more free-flowing exhaust too, and removing the mufflers saves you 18.9 pounds. STM's exhaust systems are crafted in the USA, and this one includes gaskets and required hardware for easy installation.
---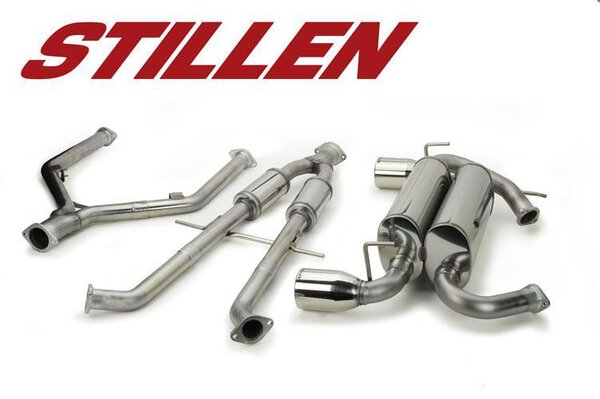 Stillen Dual-Exit Exhaust System
Check Price
Stillen has years of experience working with the 370Z's VQ35 engine, leading to the development of this exhaust system. Their exhaust for the 370Z has a claimed +18 hp at the wheels, proven with dyno testing. The exhaust frees up restriction when compared to the factory system, giving a nice aggressive exhaust note, but prevents drone at the same time. Stillen offers amazing quality with their products, and this exhaust has excellent fit and finish.
---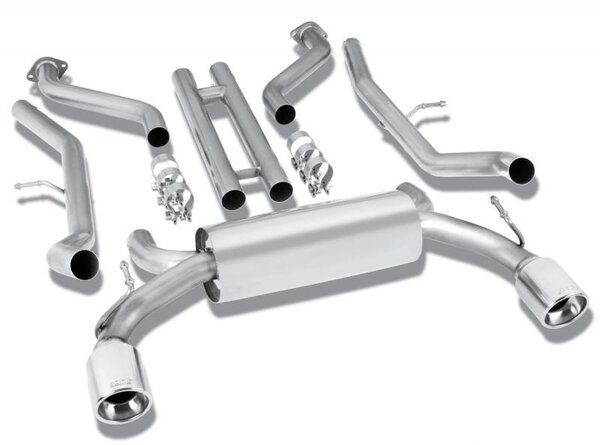 Borla S-Type Catback
Check Price
Borla is one of the biggest names in the aftermarket exhaust parts world, and they offer an excellent exhaust system for the 370Z. This exhaust will give you a nice aggressive exhaust note, letting the gasses flow more freely compared to the OEM system. It's got 2.25" tubing, and the 4.5" inch tips look excellent on the rear of the 370Z. This is a great catback from a proven reputable brand, so we can highly recommend it.
---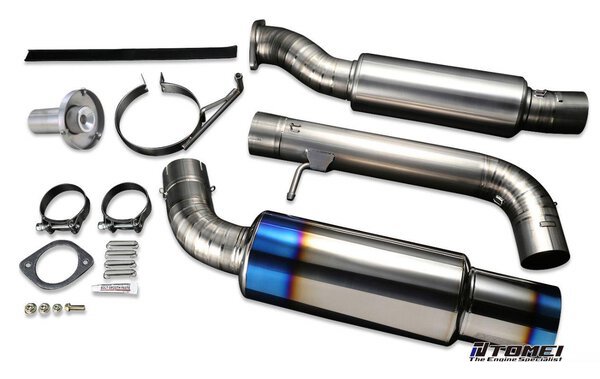 Tomei Expreme Titanium Catback
Check Price
Tomei has been operating since 1968, starting as a tuner in Japan. Over years of research, development, and experience, they've perfected their formula for some of the best exhaust systems and other mods. The Tomei Expreme Ti Titanium Catback is a great single exit exhaust for the 370z. If you're looking for the best fit and finish, with no compromises, then anything from Tomei is a great choice. This exhaust is loud. The piping is 80mm in diameter and the exhaust tip is 152 mm. This is a great choice if you want a single exit and the best quality for your 370Z exhaust.
---

Motordyne Exhaust
Check Price
The Motordyne exhaust for the Nissan 370Z is a popular choice. This cat back exhaust system uses a true dual design, with two pipes running down the length of the car for each side of the engine. The tubing progressively increases in size from a 2.5" diameter to 3" for increased flow, and the exhaust tips are 4.5" This exhaust system has a unique and aggressive sound due to the true dual design. We highly recommend this for anyone looking for a great sounding and quality catback system.
---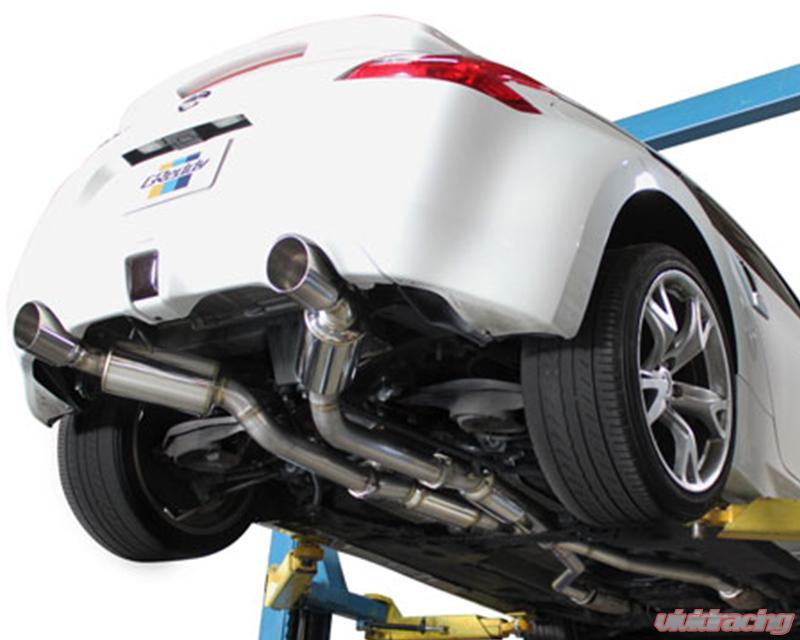 GReddy Evolution
Check Price
GReddy is widely known in the aftermarket car mods world for their huge range of parts. This exhaust for the 370Z is just as good as we'd expect from a brand like GReddy. They claim in their dyno testing, they say horsepower gains of 16HP, and torque gains of 19HP. The exhaust piping starts at 2.5" and expands to a 3" diameter. It has great looking 4.5" exhaust tips. If you're looking for some proven performance gains and a great sounding exhaust for your 370Z, then GReddy delivers with their Evolution series.
---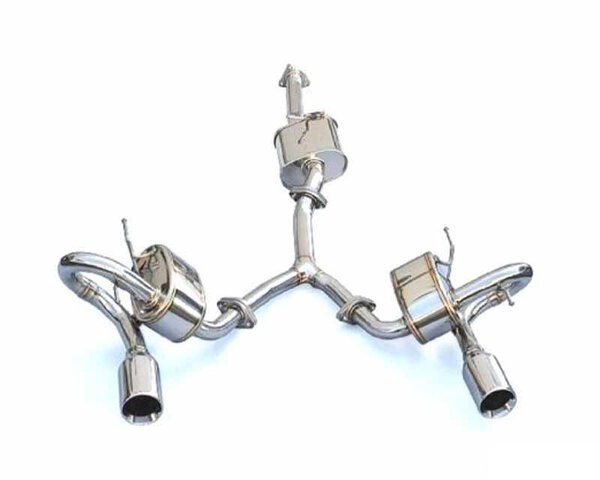 HKS Super Sound Master
Check Price
HKS is a well-established brand for aftermarket parts for Japanese cars. Their Super Sound Master exhaust for the 370Z has some of the best fit and finish, as is to be expected with HKS. This exhaust system gives a subtly deeper sound while cruising around, but a more loud and aggressive tone when you open it up. This system doesn't compromise on quality, and we think it's one of the best.
---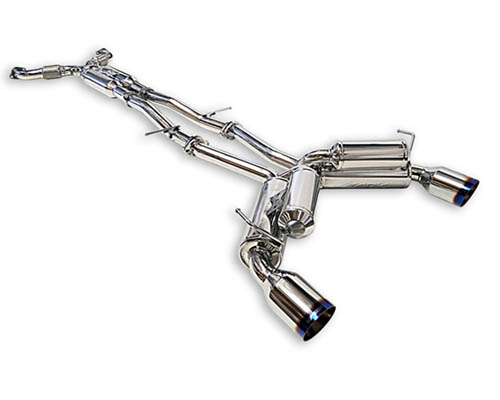 ARK Stainless GRIP
Check Price
ARK offers another excellent true dual exhaust for the Nissan 370Z. Their exhaust systems are handcrafted from 304 stainless steel. They use thicker than average tubing for stronger construction but still focus on keeping the weight down. If you want a high-quality exhaust system for your car and are looking for that unique true-dual sound, then ARK's GRIP is an excellent choice.
---
Frequently Asked Questions
Do you need a tune for a catback?
No, you do not need a tune for a catback. It doesn't affect any of the sensors or how the ECU operates.
Does a catback increase performance?
Generally a catback will offer some increase in horsepower and torque over the stock system. It's best to check with dyno results from both customers and the manufacturer.