If you want to keep your vehicle clean, regular car washes are a must. Sure, your car looks perfect long enough for some quick photos, but it won't last more than a few days without building up dust and pollen.
If you're tired of the whole hose and bucket of soapy water routine, then a rinseless car wash or waterless wash will make your life a lot easier. With these cleaning products, you can wash up your vehicle in a fraction of the time. Some of these products even include wax or a synthetic sealant that will add some protection to your paint.
We've compiled a list of our favorite waterless car wash products and rinseless car washes below, along with some tips for washing your car with these products.
---
Our Top Choice: Optimum No Rinse

Optimum No Rinse has gained a reputation as one of the best rinseless washes, and that's for some good reasons. Optimum is a well-established company that makes a range of auto detailing supplies, and ONR is one of their most popular.
Optimum No Rinse can be used in a few different ways. First, it can be used in a bucket at a lower ratio, and then used with microfiber towels or wash mitts to wipe down the full car. It can also be mixed at a stronger ratio to be used as a detail spray or clay lube.
We like to dilute the product in a spray bottle and mist each panel of the vehicle, one at a time. Then we use a bucket of ONR and microfiber towels to wipe them down, using a clean section of towel each time. This does a great job of getting the car clean and doesn't scratch the paint. With as little as four microfiber towels, depending on how dirty the car is, we can clean the entire car using this method.
In our opinion, this is the best and easiest way to wash any vehicle. Their polymer formula encapsulates dirt so it can be safely removed without scratching your paint.
This is in our opinion, the best waterless car wash. It's certainly the most popular. When bought a gallon at a time, it's the best value, and will get you more washes per dollar than anything we know of. We can't recommend Optimum No Rinse enough.
---
---
Optimum No Rinse Wash & Wax

Optimum also offers another version of their popular No Rinse product that includes wax. If you're looking to add some paint protection as you wash your car all in the same step, then this is a great choice.
Other than the obvious different color, this one being green, it includes a synthetic polymer sealant. The standard blue version is designed to leave nothing behind after you've wiped away the dirt. This is a great idea when you wash your car in between times where you apply a standalone wax or sealant.
In our experience, it's easier to wind up with water spots when using this version of the product, and it's more important that you don't use it in direct sunlight. Still, this is an excellent product for those looking for a waterless wash and wax to get the job done faster.
---
Chemical Guys EcoSmart Waterless Wash

Chemical Guys have a wide variety of great detailing products, including waxes, spray sealants, compounds, and polishes, and this waterless car wash product is excellent as well. Not only is does it let you safely clean your car without damaging the clear coat, but it leaves a protective wax layer and it's easy to use.
Chemical Guys EcoSmart Waterless Wash comes as a concentrate. Just 16 ounces makes 2 gallons of wash solution, ready to get your car looking fresh with no running water. You can wash your car anywhere, in the sun or shade, at any time. It takes a fraction of the time you'd spend with a bucket of soapy water and a hose, and you just need a microfiber towel and some of this product.
This is one of the best waterless car washes. Like many of Chemical Guys products, we can easily give it our blessing.
---
Adam's Waterless Wash

Adam's Waterless Wash is designed to make cleaning your car as easy as possible. It's designed to be sprayed directly onto the paint and wiped away, lifting the dirt particles away from the car's paint safely. It comes in a spray bottle and is not designed to be diluted.
Unlike detail sprays that often contain waxes, this waterless wash is formulated to remove dirt most effectively. Light dust, pollen, and fingerprints and quickly be removed for a freshly washed looking car. This also helps make your sealant or wax last longer than more invasive wash methods.
This is a high-quality product, like everything from Adams, and we recommend it if you want something ready to use without any mixing. We think this is the best waterless car wash if that's your preference, although we prefer concentrated products.
---
Garry Dean's Detail Juice

Infinite Use Detail Juice was created by Gary Dean, a distinguished and widely known professional detailer. Gary Dean has been detailing for over 20 years, and created his Infinite Use Detail juice to simplify the process. He aimed to create one product that could be used to clean everything, including paint, wheels, tires, and upholstery, and this is his result.
This car wash is designed to be diluted, 1 part to 11 parts water. Although the bottle still says a 1 to 6 ratio should be used, Gary Dean has updated his method and now suggests diluting it further. We really appreciate this kind of honestly, since that will only make it more cost effective.
Detail Juice is great as a rinseless car wash, and for cleaning the entire car, inside and out. We highly recommend this extremely versatile product, not just as a rinseless wash, but an all around great cleaning product for your car.
---
Griot's Garage Rinseless Wash and Wax

Another great rinseless car wash from Griot's Garage, this product will allow you to wash your car any time and anywhere. It comes in a concentrated form, so 1 ounce of the product makes 2.5 gallons of wash. Its polymer formula has high lubricity, trapping dirt and removing it safely, and leaving behind a layer of synthetic wax.
This product has impressively high lubricity. It has a very slippery feel even when diluted at the recommended level. When used with a two bucket or similar wash method, you should not see any swirl marks after using this product with proper technique.
This is an all-around great waterless car wash and wax. If you want something you can dilute with water in your own spray bottle, and will also add a polymer layer behind after you wipe it away, this is an excellent choice.
---
Wolfgang Uber Rinseless Wash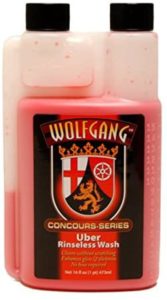 This waterless car wash product allows you to wipe away dirt and grime without needing to rinse your car, and is safe to use for your paint. The polymers in the solution encapsulate dirt and keep it from causing swirl marks. The Wolfang Concours Series Rinseless Wash also contains water softeners that help to prevent water spots from forming.
The design of the bottle makes it easy to measure out the concentrate and mix it with water at the desired ratio. The polymers create a very slick feel, giving confidence that it's doing a good job of protecting the paint from scratches.
This is a quick and easy product to use, and does a great job. It's a very economical choice, given its affordable price and how long a bottle can last.
---
Meguiar's Ultimate Waterless Wash & Wax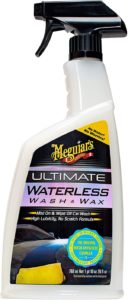 Meguiar's is one of the most well-known brands in the world of auto detailing, and their praise is deserved. They make affordable and user-friendly products that are available in many stores.
Their Ulitmate Waterless Wash & Wax works great for freshening up your ride in one easy step. It comes in a spray bottle and is designed for use on lightly dusty or dirty cars to bring back that just-washed look. It also leaves behind a protective synthetic wax barrier.
This is a great product for keeping your car looking clean in between regular washes. We like using rinseless car wash/wax products like this on lightly dusty cars, but recommend something more for a heavily soiled car.
---
CarPro ECH2O Waterless Wash

CarPro's ECH20 Waterless Wash is designed for safe use with their ceramic coatings, but it's a great product even if your car isn't ceramic coated. This is a concentrated solution, so you'll only need one ounce of product per 10 ounces of water to make a detail spray.
We recommend this product if your car is ceramic coated to preserve the coating, but it's a great waterless wash product in general.
---
Frequently Asked Questions
Are rinseless car washes safe?
With proper washing techniques, rinseless car washes are just as safe as traditional washing methods, if it not safer. We like using the Gary Dean method, so we can make each time the car is touched, it's a clean section of microfiber cloth. No dirt makes it back into the wash bucket with this method. With heavily soiled vehicles, we like to pressure wash everything we can off first.