We all would like our cars to have a perfect mirror finish, but unavoidably, micro scratches and swirls find their way into the paint over time. If you want to restore the lost shine and depth, you'll need to a polishing compound eventually.
It's easier even for a beginner to polish a car. While it can be done by hand, we recommend using a dual-action polisher. This is the fastest and safest way you can remove swirls and imperfections without risking damage to the paint. We've rounded up our favorite polishing compounds you can use to make your paint look deep and scratch-free.
---
Our Top Pick: Meguiar's Mirror Glaze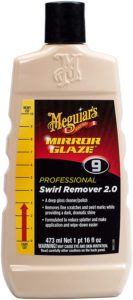 Meguiar's Mirror Glaze Swirl Remover 2.0 is one of the more popular polishing compounds on the market. Otherwise known as Meguiar's M9, it's very widely used with both professional detailers and hobbyists.
Meguiar's M9 works great to remove fine scratches and swirl marks from the paint, leaving a deep mirror-like shine. It's formulated to wipe away easily with a microfiber towel, so you can move on to the next panel more quickly, and save your arms the workout.
---
---
Griot's Garage Complete Polish

Griot's Garage Complete Polish is an excellent choice for its ability to remove scratches and its user friendliness. This polishing compound leaves little dust and is easy to wipe away in a single pass. It has no fillers to hide imperfections, making it easier to know when you've really polished the car enough to remove scratches. It works well by hand, but a dual-action polisher makes it much more effective.
---
FAQs
Should I use a rubbing compound or a polishing compound?
Polishing compounds and rubbing compounds are similar, but both have a different job. Rubbing compounds are the more abrasive of the two, and are used for correcting deeper scratches. Polishing compounds are less abrasive and used for correcting smaller defects.
It's not always necessary to use a rubbing compound. If you do, you'll want to use a polishing compound afterwards for the best shine, and to remove any micro scratches left by the compound. It's best to start with the polishing compound and move up to rubbing compound if needed.
How do I use polishing compound?
The best way to use polishing compound is with a polishing machine. We recommend using a dual-action polisher. Buffing machines don't have enough power, and rotary polishers can damage the paint without experience in their use. While it's possible to polish by hand, it will take much longer and require more effort. A dual-action polisher will allow you to do the job much faster and safely.
Is polishing compound bad for your paint?
Polishing compound is not bad for your paint, but it does wear it down on a very small, microscopic level. It removes a very small amount of the paint. On most modern vehicles, this will be clear coat. Using a dual-action polisher, you shouldn't worry about accidentally wearing through the clear coat.
You should be careful with your washing and drying techniques after polishing you car. This way you'll avoiding adding more imperfections, and it will be longer before you need to polish the car again. There's only so much clearcoat, so you want to take away as little as possible. After polishing your car, you should protect it with a wax or spray sealant.