From a humble beginning in the Pathfinder to a viral explosion in popularity in the 350Z and G35, The VQ35DE engine has proven for two decades to be a great motor to have in your engine bay. Huge aftermarket support, and commonly used have made the VQ35DE easy to find parts for, whether OEM stock or aftermarket performance.
We've tested and researched these engines and compiled a bunch of information for anyone either looking to learn about this milestone in Nissan Developed tech, or looking to upgrade their own vehicle.
VQ35DE Engine Specs
Layout: V6 DOHC 24 Valve, 4 valves per cylinder
Displacement: 3.5L/3.498 cc
Bore: 95.5 mm/3.76"
Stroke: 81.4 mm/3.21"
Compression ratio: 10:1 to 10.6:1
Output: 228-313 horsepower and 246-274 lb-ft of torque
Firing order: 1-3-4-5-6
History of the VQ35DE Engine
Nissan developed the VQ35DE engine first in Japan in 2000, and brought it to the US market in the 2001 Pathfinder and Infiniti Q4X SUVs. It was built at the Iwaki plant in Japan and Decherd, Tennessee. The VQ35DE was used by Nissan for over two decades.
Using Nissan direct ignition system (NDIS) and Equipped with a reliable timing chain instead of belts, the motor became much more reliable and require less maintenance. Having an Aluminum block and heads, forged connecting rods and crankshaft, multi point fuel injection, and a Variable valve timing system with hydraulic lifters gives this motor a impressive list of features.
This VQ engine really proved itself and went viral popular when it was put into the engine bay of the highly sought after 350Z.
Another modified VQ35DE Called the S1 was released in 2004 and produced 296 horsepower at 7200 rpm. This special edition was used in the Nissan Fairlady Z S-Tune GT.
In 2005 Nissan updated the V6 engine adding Variable exhaust timing and upping the redline to 7200 RPM, calling it the VQ35HR (High revving). Initially appearing in the Infiniti G35, this engine made its way into a number of other Nissan and Infiniti models.
A small team of engineers at Nissan then developed a Radial flow supercharger for the VQ engine for the Nissan 350Z GT-S, boosting power to a very impressive 383 horsepower in 2006. This special version of 350Z was produced in limited numbers after they revealed the initial concept.
Check out Donut Media's video if you'd like to learn more about what makes this engine so special.
Tuning and Upgrading the VQ35DE Engine
If you're wanting to get more performance out of your vq series engine equipped car or suv, we've done the research and compiled some common upgrades to get even more enjoyment out of your loved cars.
Whether going budget and easy or spendy and difficult upgrades, there is a very large aftermarket support for the VQ series. From a simple Tune to going all out, since Nissan opted to use forged crankshaft and connecting rods, there is a bit of headroom for getting more torque and power.
Paired with a manual transmission, an upgraded vq series proves to be a ton of fun and a thrill to drive.
Naturally Aspirated Build
The easiest way to upgrade your VQ35DE engine is to keep it naturally aspirated with simple bolt on parts. Common upgrades include a cold air intake, larger intake plenum, and high flow cats. Intake and exhaust upgrades do wonders on these engines.
If one is really looking for maximum power without using boost, although spendy and more involved, it still provides good performance gains. Replacing camshafts, upgrading valve springs, and aftermarket headers can also give considerable gains.
Getting more in depth you can increase the stroke and change pistons to increase compression ratio. A naturally aspirated build like this will still have lots of low end torque, Keeping the snappy feel of the N/A VQ.
Boosted Builds
The other most common method of adding power to these V6 engines is with boost, whether turbo or supercharged (even Nissan did this) you will have insane performance gains. Again, thanks to Nissan for using forged internals.
Adding boost will also require some additional upgrades, namely fuel system and intake. Either way you'll want to also upgrade your injectors and fuel pump. Got to deliver more fuel and better airflow to feed that turbo or supercharger!
Supercharging is most definitely easier and more common, however who denies how awesome the sound of turbo spool is alongside the VQ series signature intake and exhaust notes?
Turbo
TURBO SPOOL! Many car lovers' favorite sound, pair that with the cool look and feel of the 350Z, got yourself quite a sweet package there.
Installing a turbo on a 350z, G35 or other VQ series equipped cars can be done, just know its a pretty invasive involved job. There are many complete kits to do so, quite a few with everything you need.
There is a Lot of disassembly required. You'll be changing exhaust manifolds and installing a downpipe, installing Intercooler piping, possibly cutting holes for the intercooler piping through the front. A turbo kit will almost certainly require custom dyno tuning.
Supercharger
A much easier way to add heaps of power to these cars is to go with a supercharger. there are 2 popular styles of supercharger, centrifugal and Roots-style blowers. Many supercharger kits even come with a programmer and a ready to use tune, making a supercharger install a much easier and faster job, with the potential for it to be a weekend project.
Centrifugal superchargers work and look more like a turbo, bolting into the engine with piping to the intake and another pipe to the airbox.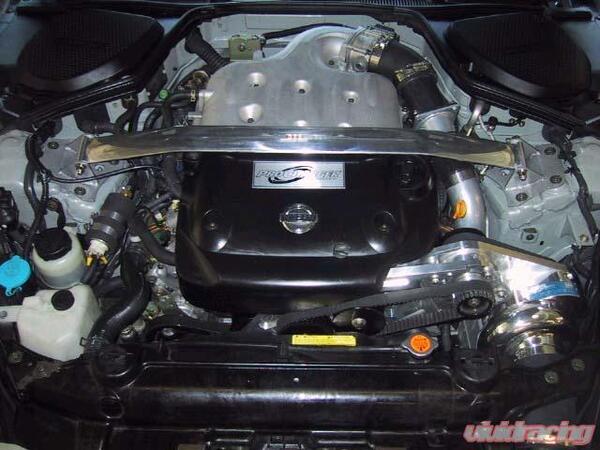 A Roots-style blower will replace the intake manifold and take its place, forcing the charged air directly into the intake ports of the head, with the intake plenum at the beginning of the system, many roots style systems will allow the use of the oem airbox and intake.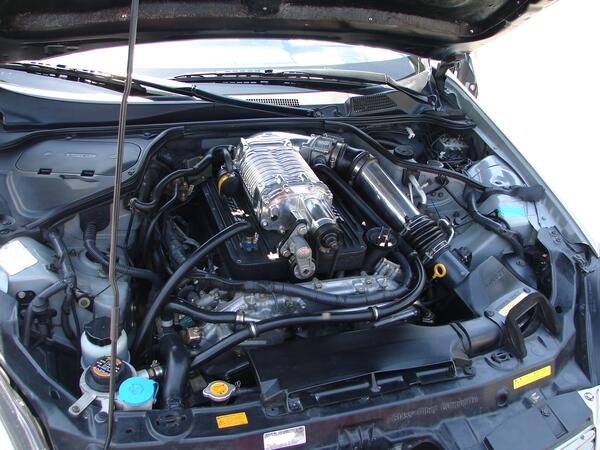 VQ35DE Engine Reliability and Common Problems
Like any engine, the Nissan VQ35DE has its share of problems. However, for the most part, it is a reliable engine, and most owners don't experience any of these issues until 100,000 miles and beyond.
High Oil Consumption
One common issue, especially with age, is that the VQ35DE tends to suffer from high oil consumption. This is generally not a huge problem if you regularly check and top off your oil. As engines age, their tolerances loosen, and they can begin to lose compression.
Timing Chain Failures
On the VQ35DE, the timing chain guides and tensioners are often a point of failure. If these parts aren't addressed in time, then it can cause damage to the timing chain itself.
Since the VQ35DE is an interference engine, this is something you'll want to keep your eyes on. This means that timing chains failure can cause exhaust and intake valves to strike pistons, causing extreme damage to the engine. You'll want to listen for any unusual loud rattling sounds coming from the engine, and address it right away.
Oil Leaks
The valve cover gaskets on the VQ35DE wear out over time, causing oil to leak out. Like on many engines, the rubber material becomes brittle over time, and oil starts to slowly seep out. If you're noticing oil deposits around the valve covers and the rest of the engine, then it's time to replace your valve cover gaskets.
While this isn't a critical issue, it is something that should be addressed. Not only can oil leaks make a mess, but it can be a fire hazard as oil drips onto hot components of the engine.
Vehicles Using The VQ35DE Engine
The Vq35DE has been used in a wide range of Nissan and Infiniti models, as well as a few from Nissan's other brands.
Infiniti
Infiniti QX4
Infiniti I35
Infiniti G35 coupe
Infiniti G35 sedan
Infiniti FX35
Infiniti M35
Infiniti JX35
Infiniti QX60
Nissan
Nissan Pathfinder
Nissan Altima
Nissan Maxima
Nissan 350Z
Nissan Murano
Nissan Quest
Nissan Elgrand
Nissan Stagea
Nissan Skyline (V35)
Nissan Teana/Cerifo
Nissan Presage
Nissan Fairlady Z S-Tune GT
Others
Dallara T05
Dallara T08
Fuga 350GT
Renault Vel Satis
Renault Espace
Renault Laguna Coupe
Tatuus Formula V6