Looking to replace the factory catback system on your 2015+ Subaru WRX or WRX STI? We've compiled a list of the best and most popular catback exhaust systems to help you make a choice. These catbacks can improve performance by freeing some restriction from the factory exhaust system and improve the sound of your car. If you're looking for something a little more substantial than an axleback exhaust system for your 2015+ WRX/STI, check these catbacks out.
Invidia Gemini R400 Catback Exhaust System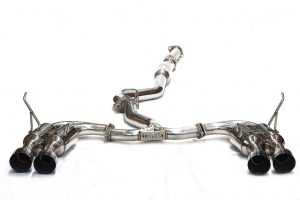 Invidia's Gemini R400 is a very popular choice for 2015+ Subaru WRX/STI owners. Its large quad tips add an aggressive flair to the rear end of the car. Its 3 inch tubing frees up some restriction from the stock catback system and deepens the exhaust note. Its exhaust hangers align with the factory locations for an easy install. If you're looking for a bit louder of an exhaust without being annoying, this one is perfect for you.
---
Tomei Expreme Ti Titantium Catback Exhaust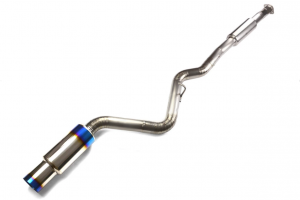 Looking to add performance to your 2015+ WRX with weight reduction and added horsepower? The Tomei Expreme Ti Titanium exhaust offers 34.84lbs of weight reduction over the stock catback system. With its single exit design, it's been designed with minimal bends to minimize exhaust turbulence, increasing horsepower and torque, and improving throttle response. Its exhaust hangers are welded to align with the factory positions for easy installation. This exhaust system is simple yet effective in improving your WRX's performance.
---
Invidia N1 Dual Exit Catback Exhaust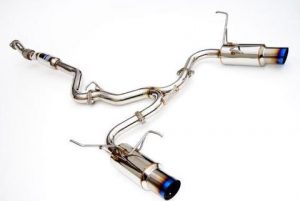 Another great offering from Invidia is the Invidia N1 Cat back exhaust system. This catback for the 2015+ Subaru WRX features dual exits with large tips that fill up the space in the diffuser nicely and give a more aggressive look compared to the stock catback system. The Invidia N1 catback is made from high-quality stainless steel, mandrel-bent for maximum exhaust flow and backpressure reduction, producing strong hosrsepower and torque gains in the mid to top end.