For the 2015+ Subaru WRX, an aftermarket downpipe (otherwise known as a j-pipe) is one of the most substantial horsepower adding modifications you can do. With so many on the market, it can be hard to know which one to choose. We've compiled a list of the best, whether you want to go catless or catted, sticking with a high flow catalytic converter. We've compared them to help you make your decision easier. A downpipe is required for a stage 2 tune and will really bring your car to life.
Tuning is required when installing an aftermarket downpipe, and tuners are reporting gains of up to 55 hp with 93-94 octane fuel. This depends heavily on the octane rating of the fuel used. With California 91 octane fuel, you may see gains of up to 40hp with an e-tune. Cobb reports gains of up to 62 whp. The power gained from installing a downpipe can vary depending on your specific car, variances in dyno measurements, and other factors, but any way you look at it, this is one of the biggest single power adders.
Cobb Catted Resonated J-Pipe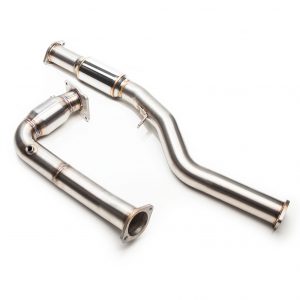 Cobb is a very well known name in the Subaru tuning community, with their AccessPort, a stable in every tuner's arsenal. Included with the AccessPort is a Stage 2 tune designed to work with this downpipe, so you can install it, and flash the preloaded tune and be up and running quickly and easily.
This downpipe is a popular choice since it includes a resonator. With the factory downpipe removed, many WRX owners complain about a "drone" while cruising, and a resonator helps to eliminate that, while still letting the engine scream when you push it. It's made from 3″ piping and includes an adapter to connect to the factory catback system.
---
Invidia Catless J-Pipe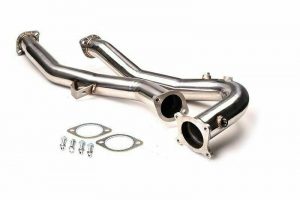 If you want to go catless, Invidia's catless downpipe for the 2015 WRX is a great option. Invidia is well known for their exhaust parts for Subaru, but also other brands such as Acura, Ford, Honda, Mitsubishi, Infiniti, and more. They offer high quality parts, manufactured in Los Angeles, California.
Many people choose to go with a catless downpipe to free up as much restriction in the exhaust as possible. Catless downpipes don't come without their drawbacks. For one, it may be difficult to pass a visual smog inspection, and some WRX owners report problems with boost creep, and have installed an aftermarket boost controller and external wastegate to mitigate this. If you're aware of these issues and think the gains are worth it, Invidia's J-Pipe is an excellent choice. It includes 3 O2 bungs, two for the stock oxygen sensors, and another so you can install an aftermarket wideband sensor.
---
MAPerformance Catted Downpipe for 2015+WRX
MAPerformance is known for their performance parts for Subaru, Mitsubishi, Nissan, BMW, and more. They started in 2006 and have developed a reputation for making turbocharged vehicles fast and powerful.
MAPerformance's downpipe for the WRX is an excellent choice along with their off the shelf tune. It's made from 100% stainless steel in the United States. The stock downpipe is a huge bottleneck in the exhaust flow, and MAPerfomance's aftermarket downpipe will free that up and add serious power.
---
Grimspeed Catted J-Pipe for 2015+ WRX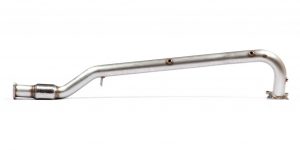 Grimspeed offers a catted downpipe for the 2015+ WRX in a one piece design. They designed this downpipe by scanning the OEM J-Pipe and using CAD to create a downpipe that fits tightly under the body for the 2015+ WRX without losing any ground clearance. The design allows for using the OEM mounting brackets. The single piece design gives fewer potential points of failure.
The Grimspeed downpipe includes gaskets, 4 replacement turbo studs which commonly strip during installation, 2 replacement catback bolts, a plug for the 3rd O2 bung, and bolt for the grounding strap.