While the BRZ is a popular affordable fun sports car, it definitely could use some extra power. Its FA20 engine is naturally aspirated, while the WRX gets a turbo variant of the same engine, so what better way to go faster than by adding a turbo? A supercharger kit is another great option for forced induction, but with a turbo, it's possible to build more boost and make more low end power.
While the car well deservedly has received a lot of hype, with its great styling, its low weight of under 2800 pounds, and its well-balanced chassis, the stock engine only delivers around 200 horsepower. Compared to many cars, that's a decent number, but this is meant to be a sports car! Fortunately, there are many manufacturers that offer complete kits with everything you need to install a turbo on your BRZ.
We've reviewed the most popular to help you decide on the best Subaru BRZ turbo kit. These turbo kits also work with the Scion FRS and Toyota 86 since these cars are essentially rebranded versions of Subaru's BRZ.
READ ALSO – Best BRZ / FR-S / 86 Supercharger Kits
---
Our Top Choice: Works Turbo Kit
Works is an automotive company that designs, engineers, and manufactures performance parts for a wide variety of different cars. They're based out of Sonoma County, California, located on the Sonoma Raceway. They were inspired to start the company with the Mitsubishi Evolution arriving in the United States in 2002 and became the very first Evo tuner, working out of their small San Francisco warehouse. They've since grown to a team of engineers and technicians with over 60 years of combined experience in the automotive industry.
The Works Turbo kit is the only CARB certified kit for the Subaru BRZ and Scion FRS. If you live in California, then this is the kit for you. Works has gone through the trouble of testing their turbo kit and getting approval from the California Air Resources Board, making it legal for street use and able to pass smog inspections. The kit retains the factory airbox, catalytic converters, and exhaust manifold, so it won't comprise the factory emissions equipment.
Works Stage 1 Turbo Kit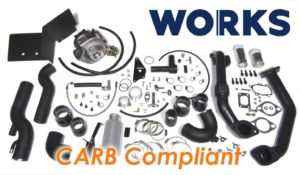 Horsepower gains: 70 hp
Torque gains: 50 ft-lbs
CARB approval: yes
On just 7 lbs of boost, the turbo kit provides gains of around 70 hp and 50 ft-lbs of torque on 91 octane gas. This kit, like the others, includes all of the parts needed for installation. Works includes a 12 month, 12k mile warranty on all of the parts. With the respectable power gains and CARB compliance, we highly recommend this turbo kit, especially for anyone living in California.
Works Stage 2 Turbo Kit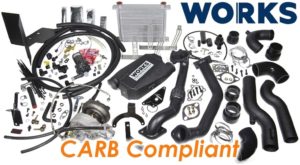 Horsepower gains: 90 hp
Torque gains: 90 ft-lbs
CARB approval: yes
The Works Stage 2 Turbo Kit makes around 12 lbs of boost and some extra power over the stage 1 kit, also adding an air-to-water intercooler. The performance gains are around 90 hp and 90 ft-lbs of boost. While the stage 1 kit is good, this is even better, and this one is CARB approved as well. If you want to best California emissions compliant turbo kit money can buy, this is for you.
---
---
HKS Turbo Kit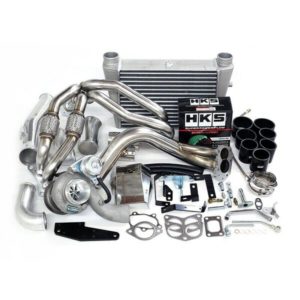 Horsepower gains: 100 hp
Torque gains: ~100 ft-lbs
CARB approval: no
HKS was started at the foot of Mount Fuji in Japan, where its founder Hiroyuki Hasegawa began tuning engines in his farming shed. There he built the first commercial turbo kit for passenger vehicles and since then, designing and building turbos has been a core part of their business.
The kit provides around 350 hp on the stock FA20, and has been tested up to 450hp with a built engine. Separate engine management is required, as well as bigger injectors (440cc or higher recommended) and an upgraded pressure sensor. This turbo kit includes everything else you need, like the intercooler, intake parts, exhaust manifold, and all hardware.
This BRZ turbo kit from HKS is an excellent choice. Although upgraded injectors are recommended and don't come with the kit, the power numbers speak for themselves. If you want to add some serious power to your Subaru BRZ, Toyota 86, or Scion FRS, and still have room to grow if you decide to build your engine, then this turbo kit should be at the top of your list.
---
Tomioka Racing Turbo Kit for Subaru BRZ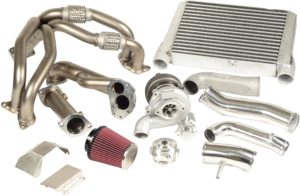 Horsepower gains: 133 hp
Torque gains: 107 ft-lbs
CARB approval: no
The Tomioka Racing TR-TS1025 Turbo kit for the Subaru BRZ / Scion FR-S / Toyota 86 offers a huge power increase, capable of up to 400 whp. The turbo's large blades decrease spool time and generate great mid to high end power. This is one of the most popular turbochargers for its great performance on both the street and the track.
---
GReddy Tuner Turbo Kit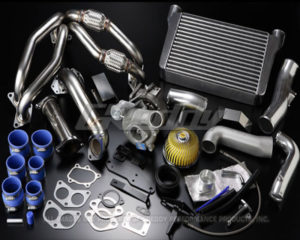 Horsepower gains: 93.5 hp
Torque gains: 68.7 ft-lbs
CARB approval: no
GReddy is a popular Japanese brand for aftermarket car parts. Founded in 1977, they've become a well-known name and major player in the aftermarket automotive scene. One of the things they're most known for is turbo kits, making GReddy one of our top choices.
This kit was tested thoroughly in both Japan and the United States for both daily drivers and weekend only race cars. The turbo is appropriately sized, so there's not much noticeable turbo lag, maintaining power in the low end. Where the kit really shines is in the mid-range RPMs, giving a much-needed boost to the stock power dip.
The GReddy T518Z Tuner Turbo Kit is complete with all of the parts you need: the turbo itself, piping, intercooler, exhaust manifold, and all. GReddy's dyno tests have shown a +93.5 horsepower and +68.7 ft/lbs of torque increase, just running at 7 psi of boost with the stock injectors and fuel pump, adding just an ECUtek ECU and their GReddy Evo3 70mm cat back exhaust system in addition to the turbo kit.
GReddy's turbo kit comes with all of the needed parts, other than engine management, so no fabrication is needed to install the turbo kit. It's all bolt of parts, ready to install into your Subaru BRZ, Toyota 86, or Scion FRS, or. With the reputation of GReddy, we think this is one of the best BRZ turbo kits.
---
Blitz Turbo Kit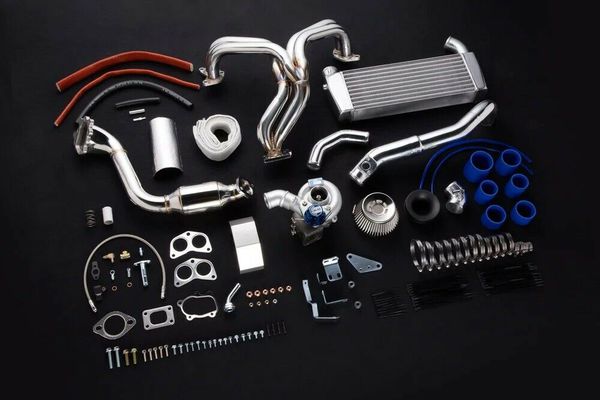 Horsepower gains: 50 hp
Torque gains: 65 ft-lbs
CARB approval: no
Blitz is a Japanese company known for its various performance car modifications, including suspension parts and turbo kits. The company was founded in 1980 with its headquarters in Tokyo, Japan. They have an extensive history participating in motorsports, with Japanese cars such as the Toyota Soarer, Toyota Supra, and Nissan GT-R, setting many records along the way. More recently, they won the first prize with their Subaru WRX STI at the Tokyo Auto Salon in 2015.
Blitz offers a full bolt-on turbo kit for the Subaru BRZ and Toyota 86. The turbo kit improves the stock engine's performance, providing around 264 horsepower and 221 ft-lbs of torque. With some additional upgrades, the turbo is capable of supporting around 375 horsepower. This turbo kit includes everything you need to install it, short of engine management. It includes an exhaust manifold, intake parts, and hardware.
If you want a true JDM turbo kit, then this is the one for you. It's rather difficult to find any information about this company and its products that are written in English, but their site has all of the information in Japanese. With its respectable power gains, this is a good choice for anyone looking to add more power to their Subaru BRZ or Toyota 86 and fully keep its Japanese spirit.
---
Full Blown Turbo Kit
Full Blown Motorsports is a performance modification company based out of Minnesota. As the name suggests, they are known for the turbo kits and supercharger kits for a wide variety of cars. Mostly they make parts for Japanese cars, including the Subaru BRZ / Scion FRS / Toyota 86.
Full Blown Motorsports offers a couple of different turbo kits for the Subaru BRZ. Their stage 1 kit is a single turbo kit, like many of the other options. They also offer a stage 2 kit that includes two turbos.
Both kits include all of the necessary parts for installation. In addition, they provide a base tune file for ECUtek's tuning system, helping you to get up and running as soon as possible without needing to take your car to a dyno on a trailer. These kits, unlike many of the other options, includes a fuel pump and fuel injectors.
Full Blown Stage 1 Turbo Kit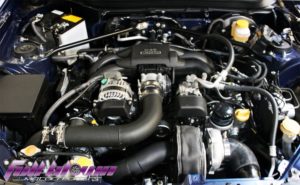 Horsepower gains: 235 hp (with supporting mods)
Torque gains: unknown
CARB approval: no
The Full Blown Stage 1 turbo kit for the Subaru BRZ, Scion FRS, and Toyota 86 includes everything you need for massive power. With the included fuel delivery parts, this kit is rated up to 440 hp with supporting engine modifications. If you want all the parts you need to support huge horsepower gains over stock all in a single package, this is the kit for you.
Full Blown Stage 2 Turbo Kit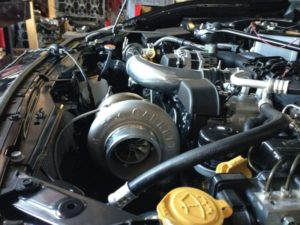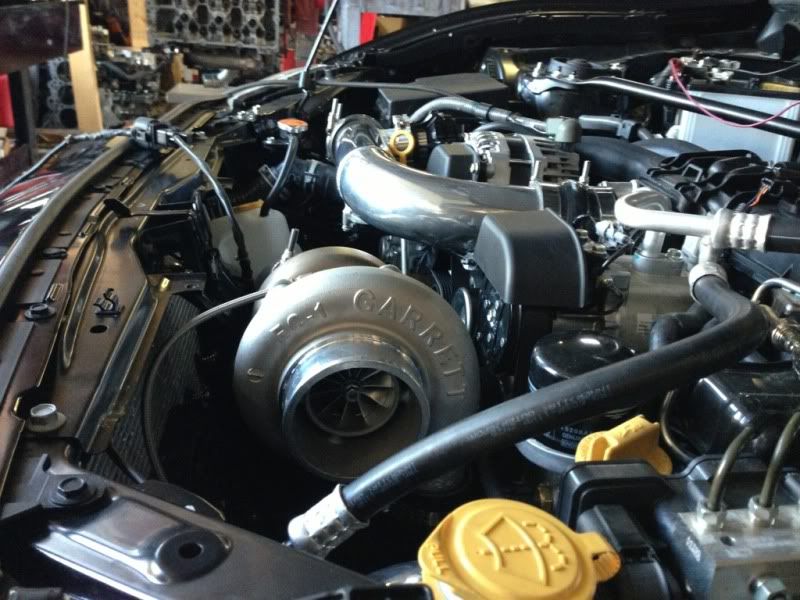 Horsepower gains: 495 hp (with supporting mods)
Torque gains: unknown
CARB approval: no
The stage 2 kit kicks things up a notch from the already impressive stage 1 kit. If you're planning on building your engine, we highly recommend this turbo kit. With its twin turbos, it can support well beyond 700 horsepower. This turbo kit can transform the Subaru BRZ and its variants into a completely different car, bringing the power into supercar territory.
---
Conclusion
While all of these turbo kits are impressive, we find the Full Blown kits to be the overall best. With the included fuel system upgrades and base ECUtek map, these kits are the most complete, not to mention the impressive power potential.
The Works turbo kit is also highly recommended, especially for California residents. Works is based out of California and has received CARB approval for their kit, making their turbocharger kit legal for street use and able to pass smog inspections.
All of these turbo kits will require some mechanical skills to install. For one, you need to mount the turbocharger itself, the intercooler, and piping in the engine bay. You also have to route oil and coolant lines to the turbo. Generally, these kits are designed to run a return line to the oil pan, which may require drilling a hole and welding a fitting.
Whichever turbo kit you decide on, your Subaru BRZ, Scion FRZ, or Toyota 86 will be transformed into a different car, one with the power you'd expect to back up its sleek and sporty styling. Making extra power is easy with forced induction, and the best route to go if you want to make a lot of power.