Looking for a brake upgrade for your Subaru WRX? We're here to help you sort through all the various options and decide what's right for you, and find something at a price that matches your budget. While the stock brakes in the WRX are good, for some serious spirited driving, racing, or other track use, you'll eventually want to upgrade the brakes for some increased stopping power. Here are some brake kits and parts for the WRX that we can recommend, so you can upgrade with confidence.
Front and Rear Brake Kits
A full brake kit is an excellent upgrade when compared to the stock system, not only giving you a massive increase in stopping power, but you'll be able to push your Subaru WRX for much longer without worrying about brake fade. These are our recommended package brake kits for the WRX, with everything you need to upgrade your front and rear brakes.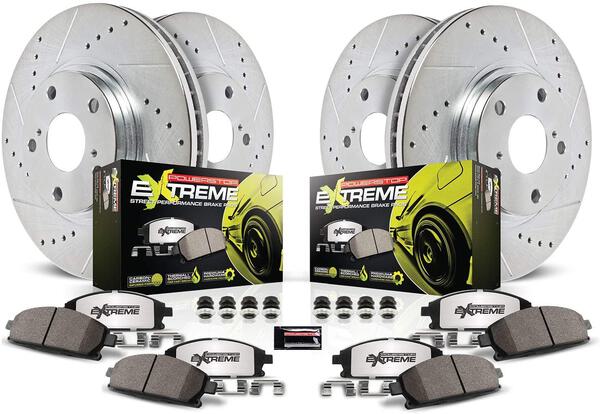 Best Brake Kit For Street Use:

Power Stop Z26 Evolution Check Latest Price
The Power Stop Z23 Evolution Sport Brake Kit is an excellent upgrade for the Subaru WRX that includes front and rear pads and rotors. This kit retains the factory calipers. While an upgrade like this won't give you the same performance increase when compared to a big brake kit, it's still a substantial upgrade.
The rotors are cross-drilled and slotted, giving an increase in cooling capacity when compared to the stock rotors. With its ceramic pads, this brake kit produces less dust than the stock brakes. The kit is designed specifically to be used primarily in the street, so if you plan on attending a track day regularly, you may want to consider a more substantial upgrade for your vehicle.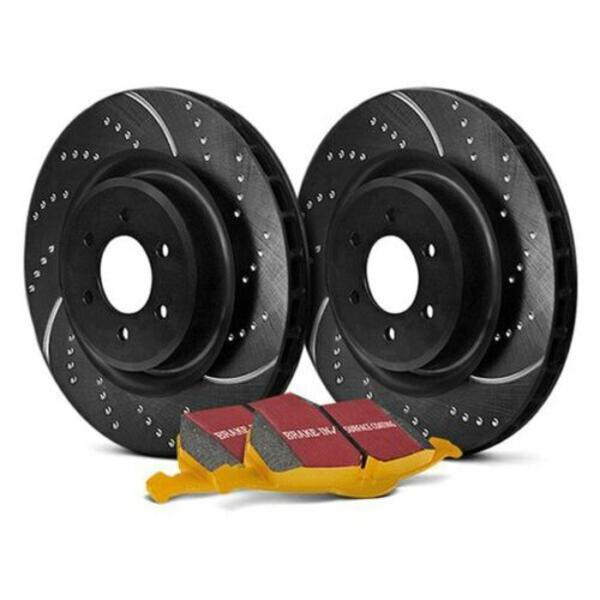 EBC Stage 5 Super Street Brake Kit
Check Latest Price
This kit from EBC includes slotted and drilled rotors, which helps to maintain cooler brake temperatures, and allows gasses and debris to easily escape. The EBC Stage 5 kit also includes EBC Yellow Stuff brake pads, which are designed for track use, but is also designed to perform well while cold so they can be safely used on the street.
If you frequently track your WRX, then this is a great upgrade. For cars that aren't dedicated to the track, it's important to use brake pads that still have acceptable performance while cold. That makes this brake kit an a great option for street driven WRXs that frequently see track events.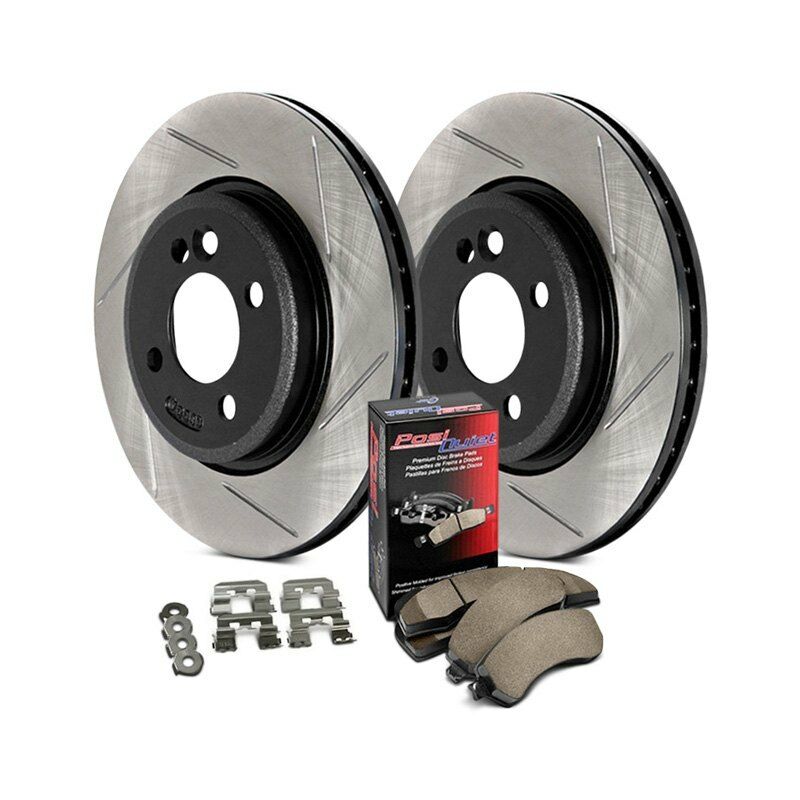 StopTech Slotted Street Brake Kit
Check Latest Price
The StopTech brake kit for the WRX includes slotted rotors, which are designed to allow gas and debris to escape and be swept away, ensuring a clean braking surface and better performance.
This brake kit not only gives a great upgrade in appearance over stock, but they're reasonably priced, high quality, and offer a moderate upgrade in braking performance. If the stock rotors and pads are worn and nearing the end of their life and you need to replace them, then you can't go wrong with StopTech.
FactionFab Front Brake Upgrade Kit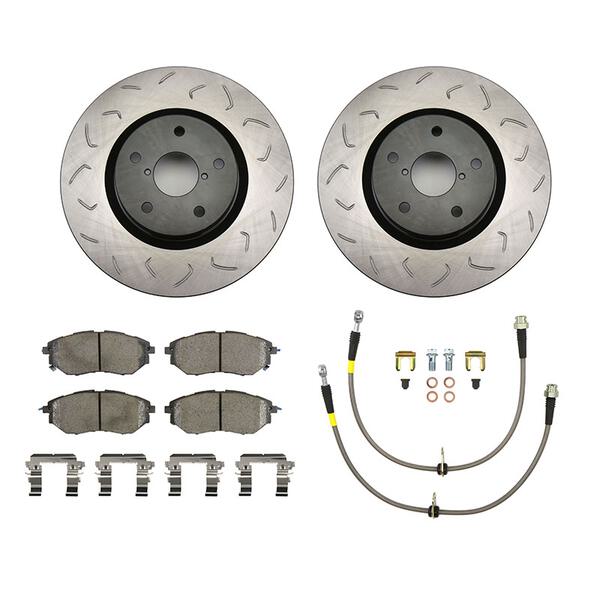 FactionFab Front Brake Upgrade Kit
Check Latest Price
If you're looking to upgrade the performance of your braking, then a front brake kit upgrade is a great place to start. The front brakes do most of the work, since the front wheels cary the most weight, so you'll get the most bang for your buck just upgrading the front.
This kit includes high-carbon rotors for increased durability, with groves to help with removing the built up gasses and debris. The included pads are made to perform well up to 1300ºF to reduce the chance and severity of brake fade. Also included are stainless steel brake lines, which replace the stock rubber lines and give you a more responsive and stiffer braking feel.
Braking Parts Explained
Not sure how the braking system works on a car and what all the parts do? We prepared this quick explanation of all the components to help WRX drivers understand the details of how their braking system works.
Brake Rotors
Brake rotors are the circular piece that sits behind your wheel. When you press the brake pedal, the calipers clamp down on the rotor to slow the car.
Slotted Brake Rotor
Slotted brake rotors are designed with grooves to keep the system cooler under heavy repeated braking by increasing airflow. The slots also work to prevent debris and gas buildup between the pad and rotor.
Calipers
Calipers are the part of the braking system that applies force to the rotor. Inside of the calipers are brake pads.
Brake Pad
Brake pads are the friction surface that sits inside of the caliper, and makes contact with the rotors. This friction forces the car to slow dow.
Brake Lines
Brake lines are hoses that connect to your calipers. When you press the brake pedal, hydraulic pressure travels through the brake lines to the capilers, causing them to clamp down.
Frequently Asked Questions
Have more questions about the Subaru WRX's brakes, or just braking systems in general?
How do you know if you need new brake pads?
Several common problems that are common when your brake pads in Subaru require replacement include cries of grinding, or squeaking when using the brakes. In cases of any of these warning indicators it's time to replace the brake pads, which can be a great time for an upgrade.
How long do brakes on a WRX last?
It entirely depends on your driving habits. Brakes can last for many years on a strictly street driven WRX, especially if you make sure to decelerate gently and use engine braking to help slow you down. It's also entirely possible to go through brake pads in just a few track days, if you're pushing the car to its limits for extended periods.
Can I put STI brakes on a WRX?
Yes, you can put STI brakes on a WRX. Keep in mind this depends on the model year of your car, as the parts might not fit on older WRX models. You'll need to check your fitment, and ensure you have enough clearance for the rotor to sit behind the wheel.