Beneath the Subaru WRX's iconic hood scoop is one of the most important parts of any turbo car, the intercooler, a heat exchanger designed to keep the intake temperatures down. As you drive, air is forced through the scoop and into the top mount intercooler, cooling air from the turbo before it reaches the engine. This works on the same principle as a radiator for your coolant.
The stock intercooler does its job well, but like everything else, if you want to make more power, it could do better. Aftermarket intercoolers will more effectively cool the air with their larger capacities and less restrictive airflow. This helps to deal with issues like heat soak, a condition where heat from the engine makes its way into the intercooler, raising intake temperatures.
We've rounded up the best top mount intercoolers for the 2015-2020 WRX. If you're looking to take your car beyond stage 2 power levels, this is one of the most important and easiest to install performance parts for your car.
---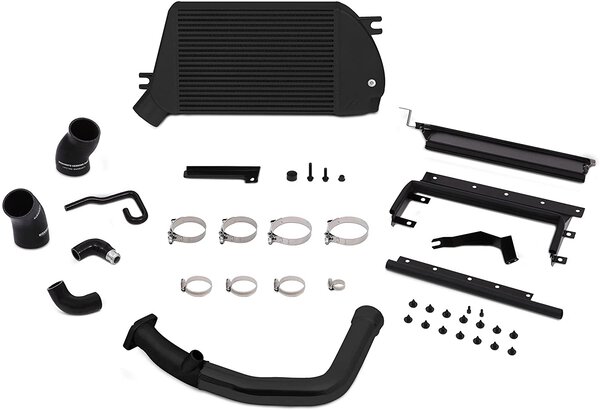 Our Top Choice:

Mishimoto TMIC
Check Latest Price
Mishimoto has been making performance parts, including radiators, intakes, and intercoolers for a wide range of vehicles since 2005. Mishimoto parts are all designed for direct fitment, tested for quality, and backed by a lifetime warranty. Their in-house research and development team works to engineer, test, and design products to give the best performance gains.
Mishimoto's top mount intercooler kit not only has more airflow and higher volume than the stock intercooler, at 625 cubic inches but also includes a charge pipe to further increase the cooling efficiency. The bar and plate core promotes good heat transfer when compared to a tube and fin core.
Mishimoto has tested the intercooler from stock power to 500hp. They've found gains up to 15 whp and 8 ft/lbs of torque, as well as 35 Fahrenheit drops in intake air temperature.
With the included charge pipe and other hardware, this kit is easy to install, and one of the best top mount intercoolers available for the WRX.
---
---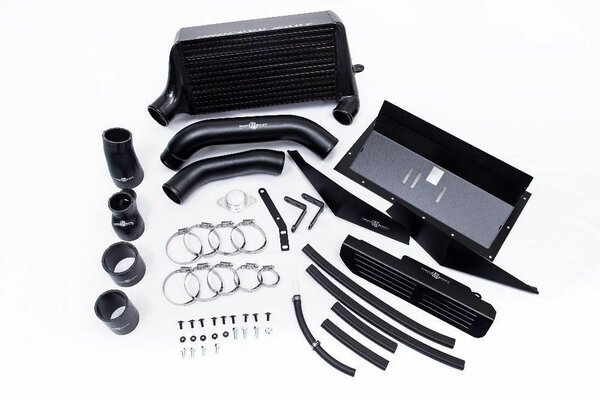 Process West Verticooler
Check Latest Price
Process West specializes in aluminum heat exchange products for automotive applications, such as radiators, oil coolers, and intercoolers. They design, test, and manufacture their parts in house, and have been around since 2003.
The Process West Verticooler is a top mount intercooler with a more unique design. The intercooler is mounted in the same place as the OEM TMIC, but is orientated more vertically at a 15-degree angle, rather than horizontally, while still fitting in the engine bay without a problem.
The idea with the vertical design is that this allows a more direct path for the air to flow. It also keeps the fins further from the engine to reduce heat soak. The kit includes a new duct for the hood to fit with the intercooler, so the most air makes it through the fins.
---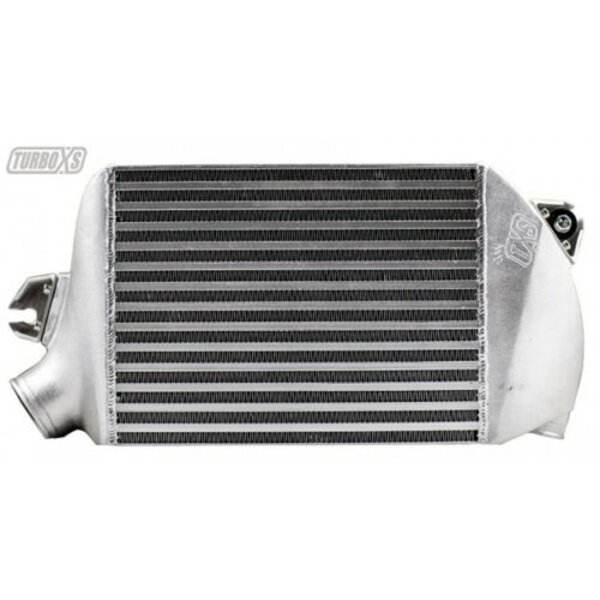 TurboXS Top Mount Intercooler
Check Latest Price
Since 1999, TurboXS has been producing high-quality automotive performance parts. They offer a range of parts specific to turbocharged vehicles, such as blow-off valves, intercoolers, charge pipes, and intakes.
TurboXS offers a great TMIC for the 2015-2020 Subaru WRX, massively increasing cooling capacity with its 68% larger volume when compared to the stock intercooler. This TMIC is designed to work with the stock charge pipe, although an aftermarket one can be added as well.
---
Garrett TMIC
Check Latest Price
Garret has long been a highly respected brand in the performance parts world with their turbochargers. They have been around since 1936 when their founder started the Aircraft Tool and Supply Company, which would later become Garret.
The Garret TMIC for the Subaru WRX is designed to support up to 530 hp. With computer-assisted airflow optimization, Garret has designed the end tanks for maximum flow. They've managed a 30-degree reduction in temperatures, and gains of up to 16 hp and 15 ft/lbs of torque.
---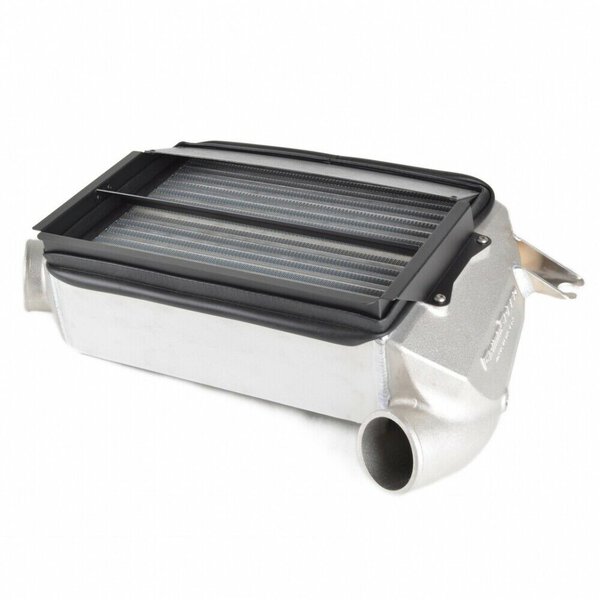 GrimmSpeed TMIC
Check Latest Price
Grimmspeed was founded in 2006, with the goal of providing their customers well-engineered and designed aftermarket car parts. Although their focus started on Subaru, they've since expanded the business to making parts for other brands too.
GrimmSpeed's top mount intercooler kit for the Subaru WRX features a carefully designed core, engineered for a low-pressure drop while providing maximum cooling. The included splitter mounts to the intercooler and matches up with the factory duct on the hood without modifications.
---
Frequently Asked Questions
Do you need a tune for a top mount intercooler?
A tune isn't required to run an aftermarket top mount intercooler, since it doesn't impact any sensor readings. However, you won't be getting the full benefits of an upgraded intercooler without a tune. The lower temperatures allow for more running more aggressive ignition timings and more boost safely, things a tuner will need to adjust.
What does a charge pipe do?
A charge pipe connects the intercooler to your engine. It carries charge air from the turbo into the engine, through the throttle body, after it's been cooled by the intercooler.
Why does Subaru use a top mount intercooler?
Subaru's engines are designed with the intercooler on top of the engine, being fed air through the hood scoop. When compared to a front mount intercooler, this means less piping and a shorter path for the air, leading to increased efficiency and less turbo lag.