The Subaru EJ25 series of engines has proven the test of time, and has been in use since 1994 on Japanese models, all the way up to the final WRX STI models. This iconic engine has powered everything from naturally aspirated commuter cars, to sporty turbocharged models alike.
However, like any engine, it's not without its points of weakness. Whether you're looking buy an EJ25 powered car or keep yours in top shape, then we've got everything you need to know. After years of experience working with these engines, and thorough research, we've created the ultimate guide to the Subaru EJ25.
EJ25 Engine Specs
Displacement: 2.5 liters (2457 CC)
Bore: 99.5 mm (3.92 in)
Stroke: 79 mm (3.11 in)
Firing order: 1-3-2-4
All Subaru EJ25 engines have a similar design, with 16 valves, four valves per cylinder, using hydraulic lifters. All EJ engines use a timing belt, have 4 opposing cylinders. We've researched the various iterations and improvements of the EJ25 motor and collected the important data and components that make them all special in their own way for you to easily browse and learn about these interesting engines.
EJ25D
The EJ series started in 1994 on Japanese models as the EJ25D. These motors came with DOHC (dual overhead cam) aluminum cylinder heads. This first version of the engine had a power output of 155hp @ 4000 rpm and torque of 140 lb-ft at 2800 rpm.
Because the spark plugs are harder to change compared to earlier versions of the EJ series engines, the EJ25 engine came installed with platinum spark plugs to reduce the replacement interval to 80,000 miles.
In 1997, the engine was revised. The newer version outputs power of 165hp @ 4400 rpm and torque of 162 lb-ft @ 4000 rpm.
The EJ25D used smaller rod journals than previous engine designs due to how the new crankshaft was designed
For the 1999 Outback Subaru used a new bell housing design on the engine block using 8 bolts instead of 4, commonly called phase 2, however retains the same pistons as the previous versions resulting in the same compression ratio. Some put the previous gen pistons with the later heads to get a higher compression ratio.
When released in 1994 the Japanese markets offered the EJ25D with newly developed HLA heads which featured a somewhat HEMI style combustion chamber designed to have a higher compression ratio of 10.7:1 in 1996.
Usage
USDM - Subaru Impreza 2.5 RS (1998)
USDM - Subaru Legacy models

Outback wagon (1996-1998)
SUS sedan (1998-1999)
LSi (1996-1997)
GT (1996-1998)

JDM - Subaru Legacy (1994-1998)
USDM - Subaru Forester (1998)
EJ251/EJ252/EJ253/EJ254
These four engine codes represent naturally aspirated versions of the EJ25 engine. They're all very similar, with only small differences between them.
EJ251
The EJ251, introduced in 2000. It was the first of the SOHC engines (single overhead cam) used by Subaru for USDM cars. This engine uses a MAP sensor instead of a MAF sensor to measure airflow. It came with upgraded pistons over the EJ25D, giving it a compression ratio of 10:1.
The EJ251 was commonly plagued with head gasket issues, causing many issues in the cylinder block and cylinder heads. This issue was mainly from the usage of a single layer coated cylinder head gasket that was first introduced in the EJ25D.
Specifications:
Power: 165hp @ 5600 rpm
Torque: 167 lb-ft @ 4400 rpm
Compression Ratio: 10: 1
Usage:
Subaru Impreza 2.5RS (2000-2003)
Subaru Forester (2000-2004)
Subaru Legacy (2000-2004)
Subaru Outback (2000-2004)
Subaru Baja (2003-2005)
EJ252
In 2000, EJ252 was introduced to meet California emissions standards. While Subaru has not supplied a complete list of changes, this version of the engine has been confirmed to have a unique intake manifold and throttle body.
Most of the engine is the same as the EJ251, suggesting this is only a variation of the EJ251. However, the power reported by Subaru is down to 156hp @ 5600 rpm, and torque is down to 167 lb-ft @ 4400 rpm.
This engine was only used in the 2000-2002 Outback and Legacy, when equipped with a 5-speed manual transmission.
EJ253
The EJ253 first appeared in 1999. This alternate version of the engine was equipped with a MAF sensor, as opposed to previous versions which used MAP sensors instead to measure air flow. It also included tumble generator valves in the intake manifold. This initial version had 162 hp @ 5600 rpm and torque of 167 lb-ft @ 4400 rpm.
In 2006, the EJ253 was upgraded with an active valve lift system, known as i-AVLS by Subaru. This newer version of the engine's power was increased to 175 hp @ 5600 rpm, and torque was increased to 169 lb-ft @ 4400 rpm.
Usage:
Subaru Impreza (1999-2011)
North America - Subaru Legacy & Outback (2005-2012)
Europe - Subaru Legacy (2003-2012)
Europe - Subaru Outback (2003-2009)
Subaru Forester (1999-2010)
Subaru Baja (2005-2006)
Saab 9-2x Linear (2005-2006)
EJ254
The EJ254 was mostly only sold in JDM models. This version of the engine featured dual overhead cams, with AVCS (active valve control system, or variable intake valve timing) on the intake camshaft. This greatly improved drivability performance and fuel economy.
Specifications
Power: 165hp @ 6000 rpm
Torque: 173 lb-ft @ 2800 rpm
Subaru EJ255 Turbo Engine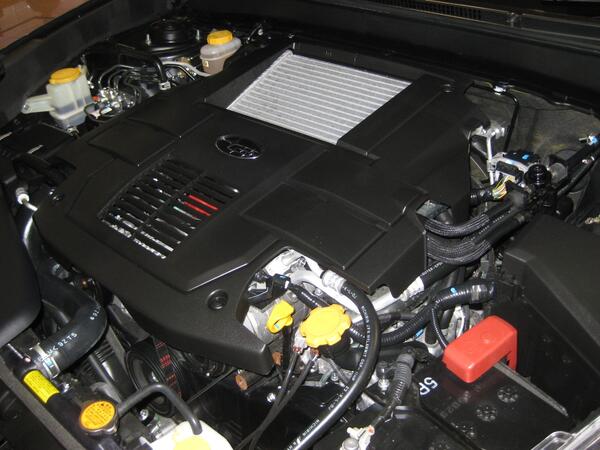 The EJ255 is a more powerful version of the engine, equipped with turbocharger. It features DOHC and has sodium filled valves. Notice the addition of a intercooler in the engine bay. The redline of this engine is 6500 rpm for all 3 iterations.
You'll find this engine in the following models.
Impreza WRX (2006-2014)
Legacy GT (2005-2012)
Forester XT (2004-2013)
Outback XT (2005-2009)
Baja Turbo (2004-2006)
Saab 9-2X Aero (2006)
There are 3 different versions of the EJ255.
Version 1
The initial version of the EJ255 came in the 2005-2006 Legacy GT, as well as the 2004-2005 Forester XT. This engine has a TD04L turbocharger, producing around 0.8 bar, or around 12 psi.
The shortblock and heads are the same as those found on the USDM 2004-2005 Impreza WRX STI. This first variant produced 207 hp with 8.4:1 Compression ratio
Version 2
This newer version of the EJ255 came in the 2006-2008 Subaru WRX models, the 2007-2009 Legacy GT, and the 2006-2013 Forester XT.
This variant of the EJ255 produced 224 hp and 226 lb-ft of torque.
Version 2 is equipped with a slightly different AB630 short block and AB820 heads. The only difference with the short block is pistons with a slightly increased dish volume.
This engine is largely the same as the early EJ257, other than its different pistons and higher 8.4:1 compression ratio.
Version 3
This variant of the motor first appeared in 2010. It features an oil scavenge pump. The passenger intake camshaft is notched to run this pump. Subaru also gave the engine dual-AVCS, which means more efficiency and more power.
This third variant of the engine was used for the 2008-2014 WRX, as well as the 2010-2012 Legacy GT. It runs at a higher 9.5-1 compression ratio and produces 261 horsepower.
Towards the end of 2013, when Subaru began production of the VA chassis WRX, the EJ255 was phased out in favor of the FA20F, although they'd continue to use the EJ257 in the WRX STI.
Subaru EJ257 Turbo Engine
The EJ257 is the top of the line version of the EJ25 engine series. It's been produced since 2004, with some upgrades and small changes over the years.
The engine has been used primarily in WRX STI models, however, there are a few exceptions.
Impreza WRX STI (2004-2007) - 300 hp
Impreza WRX STI (2007-2014) - 305 hp
WRX STI (2014-2018) - 305 hp
WRX STI (2019-2021) - 310 hp
WRX STI S209 (2019) - 341 hp
US models - Legacy GT & Outback XT (2005-2006) - 250 hp
US models - Forester XT (2004-2005) - 210 hp
The engine was originally designed for the 2004 STI. It featured single-AVCS (active valve control system), Subaru's name for variable valve timing, on the intake camshafts. This model produced horsepower numbers of 300 hp @ 6000 rpm and torque of 300 lb-ft @ 4000 rpm. This first variant of the EJ257 has a compression ratio of 8.2:1. The redline of this engine is 6700 rpm over the lower 6500 rpm in the WRX's EJ257.
Later, in 2007 models, the engine was upgraded with a revised block, camshaft, pistons, connecting rods. This increased the engine's durability and increased power output to 305hp with 290 lb-ft of torque. The upgraded engine featured dual AVCS, bringing variable valve timing to both the intake and exhaust cams.
Later, in 2019, the engine was revised again. Its pistons were cast from a stronger alloy, the valve train was refined, along with new ECU tuning to bring the power output to 310hp.
The 2019 WRX STI S209 features an upgraded turbo, intercooler sprayers, fuel injectors and pump, a less restrictive exhaust system, along with new ECU tuning to bring its power up to 341hp and torque to 330 lb-ft.
Common EJ255/EJ257 Engine Problems
While a popular platform to build on with engine modifications, the EJ255, as well as the EJ257 have a few commonly found failure points.
Turbo Failure
Turbo failure is a somewhat common problem with the EJ255. While sometimes this is due to age, especially in higher milage cars, some design flaws of the engine are also to blame.
The oil to the turbo on this engine is supplied by a banjo bolt. This is a bolt with a mesh filter. The mesh filter can become clogged and starve the turbo of oil, causing the turbocharger in these EJ engines to fail.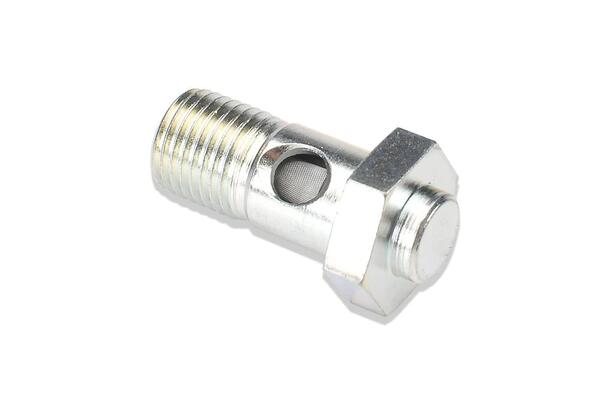 Additionally, the EJ257 has small oil filter. When the filter get clogged, dropping pressure significantly and opening the bypass. This allows debris to inter the oil system, clogging the banjo bolt and other other passageways.
It's a good idea to clean or replace your banjo bolt to help prolong the life of your turbocharger. You can also replace the OEM filter to a larger aftermarket filter, but it's always a good idea to stay on top of your oil changes for the general health of your engine.
Turbocharger Failure Symptoms
The following symptoms may indicate that the turbocharger of your EJ255 is failing:
Grey smoke from exhaust
Loss of power and boost
Unusual noise from turbocharger
Smoke from exhaust can point to other issues, but if you're also down on power, and you're not hitting the usual boost target, along with louder than usual whining from the turbo, then you almost certainly have a failed turbo.
Turbocharger Replacement
Replacing the turbocharger can be expensive. While a used turbo can sometimes be found for under $1000, but OEM turbochargers are $1000+, and cost the around the same as an upgraded aftermarket turbo.
If you're looking to have a mechanic replace your turbo, you'll need to factor in around 3-6 hours of labor. If you know your way around the engine bay, then you can save quite a bit of money here.
Ringland Failure
Ringlands are the rings of metal on a piston ring in between the grooves for the piston rings, the most common failure in a ringland is cracking.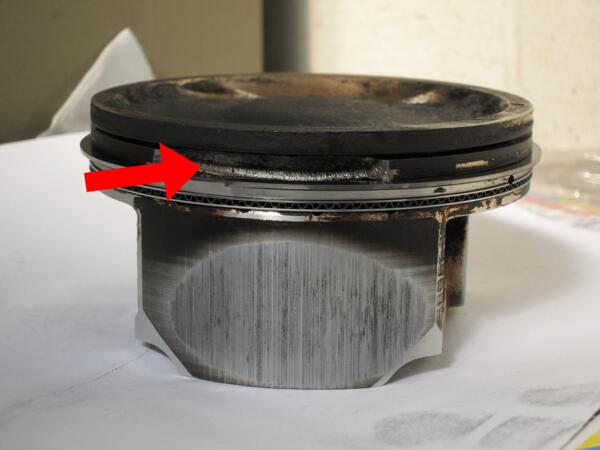 Ringland failure is primarily caused by detonation. Detonation is when fuel auto-ignites instead of burning in a normal controlled fashion. This can be caused from low octane fuel, lack of proper tuning, and prolonged hard driving. Insufficient oil pressure can also lead to increased wear on the ringlands and cause failure.
Ringland failure symptoms
Common symptoms of ringland failure can be:
Knocking
Loss of compression
Power Loss
Exhaust smoke
Ringland damage remedies
Unfortunately if ringland damage is bad enough to require attention, the only real fix is to completely replace the pistons. or entire engine altogether. To try to avoid future issues, we recommend replacing the pistons with higher quality aftermarket parts.
Rod Bearing Failure
Rod bearings are the part that sits between the connecting rods and crankshaft. When you run into oil flow issues, these very tight tolerance (thousandths of an inch) parts are starved of proper lubrication, resulting in excessive heat and wear, and debris getting into that tight space, leading to failure of the bearing.
When the rod bearings fail, this can lead to the rod knocking against the cylinder walls. You can possibly throw a rod through the cylinder block, which can destroy and seize the engine. If your rod bearings wear to the point of failure, it's likely the engine won't be rebuildable and need to be replaced entirely.
Rod Bearing Failure Symptoms
There are a few things to look out for that can point to rod bearing failure:
Rod knock
Low oil pressure
Metal shavings present in oil
If you're experiencing these symptoms, then it's likely your engine has severe internal damage and will need to be rebuilt or replaced.
Rod bearing failure fix
If caught soon enough before more symptoms of engine failure show up, it's possible that you can replace the bearings. You may require new or re-machined connecting rods and crankshaft. It is pretty common for a crankshaft or connecting rod to be past the point of saving, even by the most experienced machinist.
However, when rod bearings fail, sadly it usually results in severe engine damage, and most likely requires either a complete engine replacement or an engine rebuild.
FAQs
Here are some commonly asked questions about the EJ series of Subaru engines.
Is the EJ25 an interference engine?
Yes, the EJ25 is an interference engine. This means that the valves extend into the path of the piston, and a timing belt or timing chain failure can lead to severe damage. If you own a EJ25 powered Subaru, be sure to keep up on regular maintenance, and use extreme caution if changing the timing belt.
How much does a Subaru EJ25 engine weigh?
The weight of a Subaru EJ25 engine depends on the exact model. A complete Subaru EJ engine can weight as much as 400 lbs.